Next Generation With A Twin Element
Please note that the 2 year warranty applies to the 25 litre boiler and condenser only
Still Spirits Turbo 500
Copper Condenser Extra $90.00
Turbo 500 Complete Distillery ( Please note this is the new model with single thermometer)


Included in this fantastic package, you will receive:

• Still Spirits Turbo 500 Condenser

• Still Spirits Turbo 500 Boiler

• 6kg Production pack which contains 6kg of Turbo sugar, Classic Turbo Yeast, Turbo Clear and EZ Filter Carbon Cartridge.

• 30 Litre Fermenter complete with tap, sediment reducer, airlock, grommet and stick on thermometer

• Still Spirits EZ Filter

• 50cm stirrer spoon

• Wash Hydrometer

• Alcometer

• 5 Litre Jug

• Steriliser/Cleaner

• Essences
Still Spirits Botanical Basket
​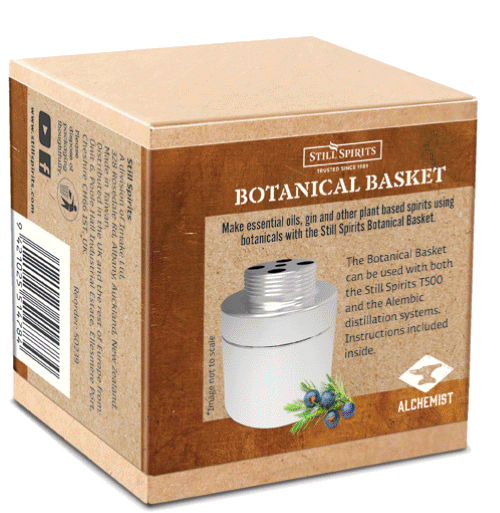 KIT - Still Spirits Botanical Basket & Kit
Make a London Dry style gin with the Gin Botanicals Kit and Botanical
Basket. Simply make your spirit wash as normal, put your Botanicals Kit ingredients into the basket and screw the basket on to the Alembic Pot Still dome and condensor or T500 condenser (by removing the saddles) and run your spirit through.

You can also use the Botanicals Basket to infuse your spirit with other flavours e.g. citrus or elderflower for your own unique brand of spirit.

The Gin Botanicals Kit is a blend of juniper berries, coriander seeds, liquorice root and citrus peels. The ideal blend to make a deliciousLondon Dry style gin.
MK11 Temperature Controller
MKII - Temperature Controller (Heat & Cool) [NEW 4mm Probe for Distillation]
​
The MKII Temperature controller is an absolute essential device for homebrewers looking to control all parts of the heating and cooling in the brewing process. Control the power of your 2200w elements and cooling devices like a fermentation fridge.
This device will allow you to program step mash temperatures and general control of your HLT/Mash Tun or Boiler. Complete plug and play with whatever application you wish to use it for.
​
Like controlling the fermentation temperature of your fermenter using a heat belt and a fridge. With programmable temperature profile integration. Set a step fermentation profile to raise the temp near the end of fermentation, or slowly reduce your cold crash gradually to not shock the yeast. This can all be done without the need to go to your temperature controller and manually change it every time. Set & forget!or if you're a distiller. Automate your distilling process with our distillation control feature. Sit back and relax!
​
Specifications:

- High accuracy 0.1 degree C.
- Dual AU sockets so you can control heating and cooling devices with the one device.
- Made with 30amp cooling relay (for fridges which can draw large amounts of power when turning on after a while) and 10amp heating relays. Rated for use with 10amp appliances.
- Works from -45C up to 120C
- Comes with fully waterproof probe so you can immerse the probe in water.
- Manufactured in compliance with Australian Standards
​
For Distillation:

This temperature controller can be used to automate your reflux still. Our AlcoEngine Reflux Still and AlcoEngine Pot Still can be purchased here: